Atomix is the Omnitrix sample of an Unknown alien from an Unknown Planet.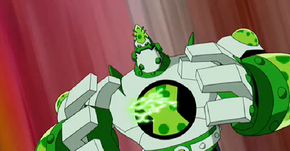 Appearance
Edit
He has a large white robotic body, with green bulbs on his shoulders and green wrists, that contain some sort of liquid. A large Omnitrix symbol can be spotted on his chest, but the actual Omnitrix is located on a belt around his waist.
Powers and Abilities
Edit
He seems to possess some sort of energy manipulation.
Weaknesses
Edit
Unknown
Appearances
Edit
For a Few Brains More
The Vampire Strikes Back
weapon xi part 1