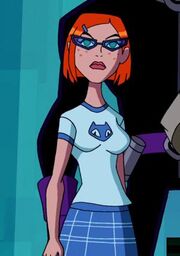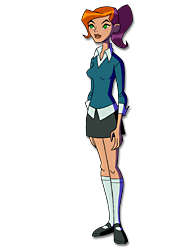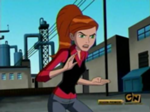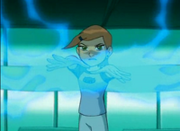 Gwen Tennyson (Gwendolyn Catherine Tennyson is her full name) is a human/Anodite from the entire Ben 10 franchise.
Appearance
Edit
In the original series, Gwen had short red hair held back by a blue hair clip, and green eyes. As she has grown older, her hair has grown longer and her eyes have darkened. She wore a blue shirt with a cat logo on her chest and white pants. Her lucky girl outfit is worn in Tough Luck and Lucky Girl.
In Alien Force season 1-2, Gwen wears a white shirt under a dark blue sweater, black stockings under a black mini skirt, and black high heels.
In season 3 of Alien Force, she wears a red shirt paired with a black vest, gray pants, and black flats. Her hair is worn in a high ponytail.
In Ultimate Alien, she wears an outfit similar to her outfit in the first and second seasons of Alien Force, but the sweater is red, and her hair is in a ponytail.
In Omniverse, Gwen still has her ponytail but with a different style. She now wears clothes similar to her Alien Force seasons 1-2 minus the leggings.She also has freckles.
Powers and Abilities
Edit
Mana manipulation and energy control
Magic and spells
Athetics and martial arts
Knowledge and intelligence
Telekinesis
Telepathy
Anodite Transformation
Astral Projection
Portal Creation
Healing 
Personality
Edit
Gwen is a quick thinker and an instinctive person. She can handle dangerous situations well despite their often unfavorable conditions. An example of this being when her magical powers were drained and Charmcaster hit her with a bolt of magical energy; she immediately reversed the spell and, though she had no power left, she was able to hold herself. Gwen is at times shown to be very concerned with the well-being of things around her, such as her surroundings, the people around her, and those she cares about. She is very strong (physically and mentally) and well mannered, despite her inflating sarcasm and ego at certain times. Gwen is a very caring, compassionate person, as shown by her acceptance of Kevin's past and recent action, as well as her statements she does not care about Kevin's appearance. She is found of Kevin.
Appearances
Edit
Ben 10: Omni-Power
Edit